Buy

→
A reversible Montessori floor bed, horizontal or inclined
There is no other bed like it. Seriously. We have a pending patent on how it works. And you can get it in Toddler and Twin sizes.
No mechanisms to break, no hazard of moving parts pinching little fingers - simply turn it over for multiple health benefits.
Sleeping on a gentle slope helps blood circulation and detoxification of the brain, builds stronger muscles and better posture, helps a child breathe more easily during a cold, alleviates acid reflux.

Its simplicity and very low profile make it perfect for younger children, while its cool design as a platform bed will appeal to a teenager.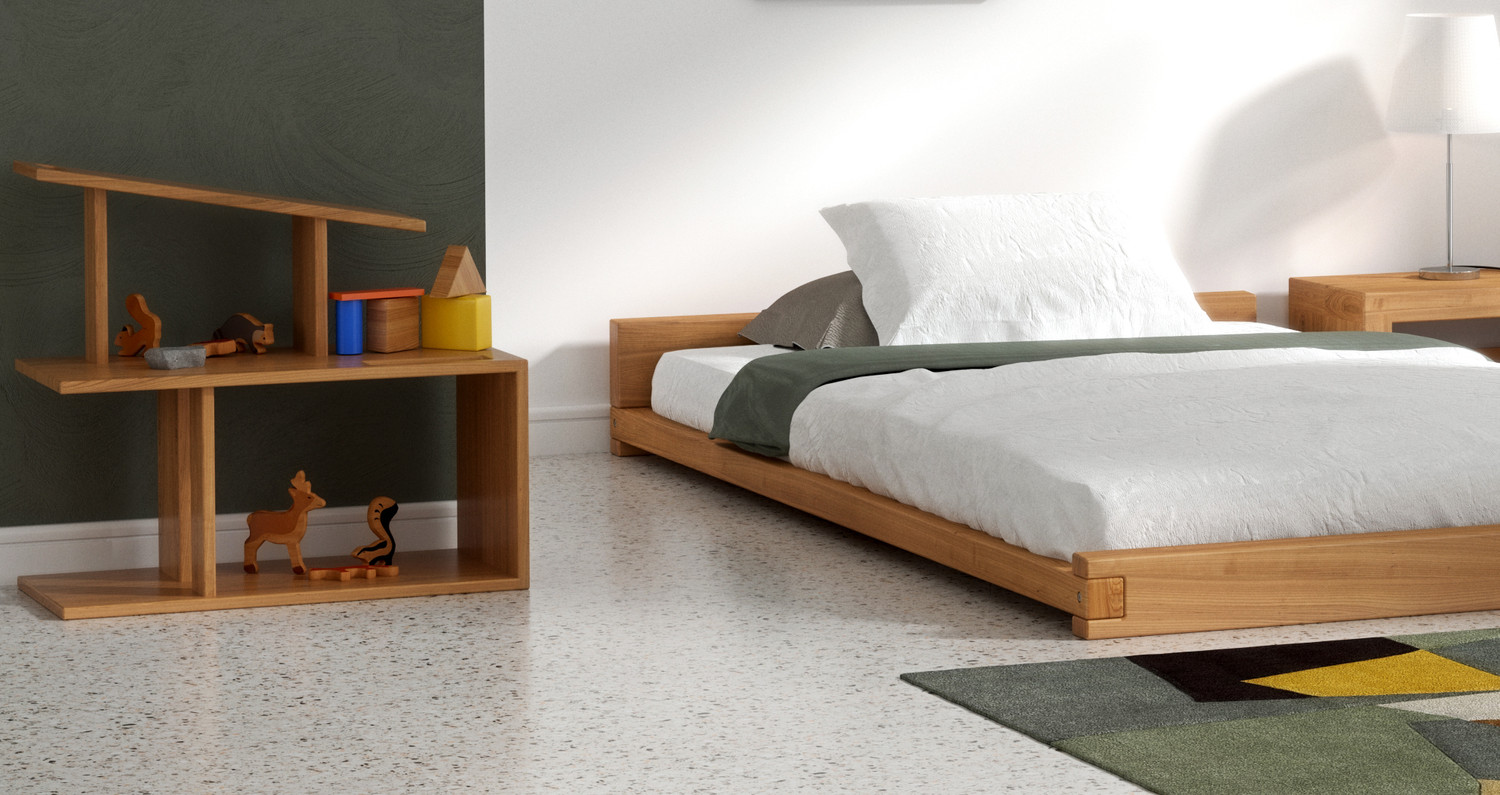 Falling off the bed no longer poses a risk of injury. On the contrary, it becomes a valuable learning experience, helping young children develop better spatial orientation and sensitivity.
It's lifted up from the ground just enough for proper airflow, to avoid condensation and the risk of mildew.
And, of course, we didn't leave much room for monsters to hide underneath!
Sturdy and durable frame that can sustain hard play and cozy family moments before bedtime

Cuddling up for a story with Dad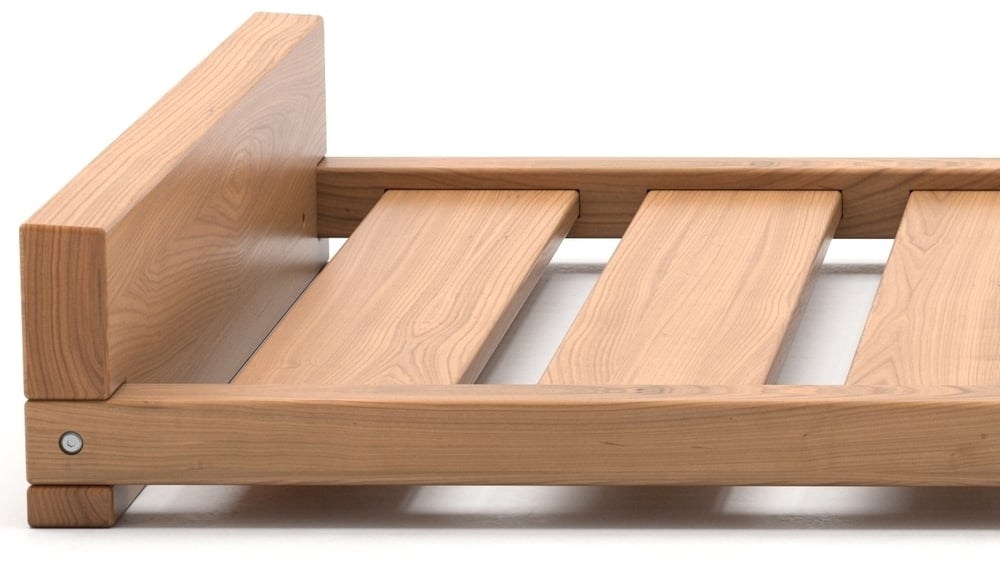 Made from Cherry hardwood and built to last for many generations of children in the family
Specifications
Dimensions (assembled)

Toddler size

Length: 142cm (55.9in) horizontal / 143cm (56.3in) inclined
Width: 80cm (31.5in)
Height: 17.8cm (7.1in)


Twin size

Length: 199cm (78.4in) horizontal / 200cm (78.7in) inclined
Width: 108cm (42.5in)
Height: 21.1cm (8.3in)

Fits mattress

Toddler size

Standard crib size mattress 70cm x 132cm (27.5in x 52in)


Twin size

Standard twin size mattress 98cm x 189cm (38.5in x 74.5in)
Mattress sold separately (check out our natural wool mattress)

Incline angle

3.3 ° in inclined position, 0 ° in horizontal position

Usage

The toddler size bed is intended for children over 15 months of age and weighing no more than 27.7 kg (50 lb) Compliant with the International ASTM Standard Consumer Safety Specification for Toddler Beds (F1821 − 19ε1)

Assembly

Requires assembly: Easy, tools provided (approx. 5 - 10 minutes)

Materials

It's made of solid hardwood - Cherry, sustainably grown in Ontario. Cherry is unique and durable. It will darken with age, adding to the beauty of its silky surface. We finish it with Shellac, a natural insect resin. It is a beautiful finish that has been used for centuries. It does not have any toxicity, is easy to repair, and highlights the natural beauty of the wood.

This product contains NO veneers, NO plywood, NO MDF (medium density fiberboard), NO chemicals.
Make it yours